You Asked For It, You Got It
---
We are proud to introduce our new
Fragrance Free Facial Moisture Cream.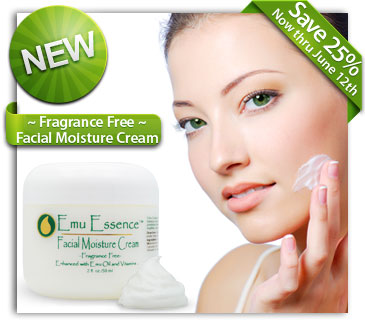 Our famously luxurious facial cream. Now with no added fragrances.

Perfect for men and women who pursue a more natural lifestyle.
---
If you have not yet tried this highly absorbable emu oil face cream, now is your chance to see what a difference it will make for your skin.


Use Emu Essence Facial Moisture Cream To
Moisturize Dry Skin

Minimize The Appearance Of Fine Lines And Wrinkles

Soothe Sun Damaged Skin

Nourish And Protect The Skin

Relieve Skin Irritation
Here is a personal testimonial from Susan Wright, founder of Uniquely Emu Products:
Ever since I can remember I have had problem skin. I was plagued by acne outbreaks since
I was a teen. As I grew older I thought my skin problems would get better but I was wrong. Even into my 40's, I suffered from acne outbreaks. Some of the outbreaks would be triggered by certain skin care products and cleansers I used on my face. Other outbreaks were random and unexplained. It was not until 1999, when I began using our (then newly developed) Emu Essence Facial Moisture Cream, that my skin began to improve.
I noticed after the first application that my skin didn't feel as tight or dry. Each morning when I applied the face cream my skin seemed to sigh in relief. It was like it was saying "Thank you for giving me what I need." After a few days I noticed that my acne was beginning to clear as well. Within about a month or so I noticed that the small lines around my eyes and mouth were also beginning to diminish.
It was about that time that my husband noticed the changes and commented on how nice my skin looked. WOW! Could this really be happening? The next month I attended a 5 day trade show where I was talking to people at our emu product booth. I can't tell you how many times I was asked "your skin looks great, what do you use?" I couldn't believe it. This never had happened to me before. As time went on my acne completely cleared up and my overall skin condition continued to improve. I was finally enjoying smoother, more youthful skin.
Now over 10 years later, at the age of 52, I still get comments about how good my skin looks. People are always asking me what my secret is. My reply is simple - my secret is Emu Essence Facial Moisture Cream. For an even more powerful anti-aging treatment I have added the Clearly Emu Ultra Clear Emu Oil to my facial care regime. I target the wrinkle zones around my eyes and mouth with this product and use it in combination with the face cream. I love these products and know you will too.
Now, with the introduction of the fragrance free formula, I have my husband and sons hooked on it also. They have been using it as an aftershave lotion to help soothe their skin. After using for a while they have also noticed that their skin seems to be softer and less prone to irritation. The younger ones are also finding the same results as I did years ago, their acne is clearing and their skin is smoother looking.
You really do need to try it for yourself to believe it. This non-greasy formula is packed with skin nourishing vitamins, botanical extracts, and of course emu oil. Don't wait any longer for great looking skin, try
Emu Essence Facial Moisture Cream
today. I'm so confident you will like it that I back it by our
60 Day Money Back Guarantee
.