You Asked For It, You Got It
---
We are proud to introduce our new
Fragrance Free Facial Moisture Cream.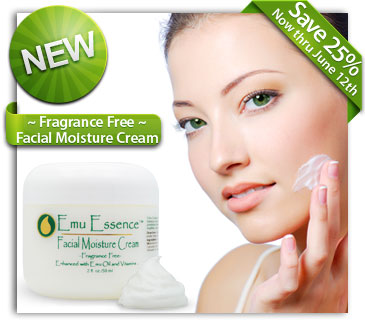 Our famously luxurious facial cream. Now with no added fragrances.

Perfect for men and women who pursue a more natural lifestyle.
---
If you have not yet tried this highly absorbable emu oil face cream, now is your chance to see what a difference it will make for your skin.


Use Emu Essence Facial Moisture Cream To
Moisturize Dry Skin

Minimize The Appearance Of Fine Lines And Wrinkles

Soothe Sun Damaged Skin

Nourish And Protect The Skin

Relieve Skin Irritation
Here is a personal testimonial from Susan Wright, founder of Uniquely Emu Products:  
    Ever since I can remember I have had problem skin. I was plagued by acne outbreaks since