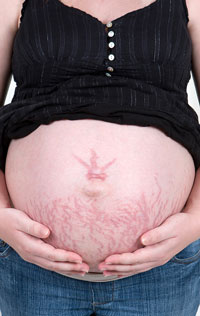 Stretch Mark Causes:
Stretch marks are caused by the rapid stretching of the skin and can effect both men and women. Causes include weight gain, pregnancy, rapid growth (common in puberty), and body building. Here we will be focusing on treating stretch marks caused by pregnancy. However, the same information will apply to stretch marks of all kinds.
Prevention of
Stretch Marks
:
The best way to treat stretch marks is to prevent them in the first place. Prevention starts with good hydration. By adding moisture to the skin you enable it to become more elastic. By conditioning your skin at the onset of your pregnancy you will have a better chance of not developing stretch marks.
Stretch Mark
Treatment:
If you already have stretch marks, have no fear, there may still hope for reducing their appearance as well. The skin is very resilient and the sooner you start to treat the damaged skin tissue, the better your results will be. Stretch marks have a developmental pattern and once they reach a certain point it is harder to treat them. Therefore the sooner you start treatment, the more likely you are to have success.
What To Use When Treating
Stretch Marks
:
One product that has drawn a lot of attention lately for the treatment of stretch marks is Clearly Emu™ Ultra Clear Emu Oil. Whether you are trying to prevent stretch marks or trying to minimize existing ones, this highly potent form of emu oil is a natural alternative for treating damaged skin of all types. Clearly Emu™ Ultra Clear Emu Oil can also be used for many other skin conditions. Other uses include helping to reduce the appearance of fine lines and wrinkles on the face and neck, treating pregnancy scars of all types including episiotomy and c-section, infant skin care, and more.
Get More Information:
Click here to find out why Emu Oil works so well for stretch marks and learn how to use it.